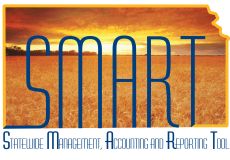 DATE
July 31, 2012
Module
Finance
Subject
Forgot Password Feature for SHARP and SMART System

The Department of Administration is pleased to announce that beginning tomorrow, August 1, 2012, SMART and SHARP system users will have the ability to generate their own password using the forgot password feature.

The forgot password feature for SMART and SHARP will closely resemble the "Forgot Password" functionality that has been in place in Employee Self Service. Instructions for how to use the Forgot Password feature can be found at http://da.ks.gov/ps/subject/ssc/ForgotPasswordHelpCore.pdf

As a default, the secret question and response will be the same secret question and response that you use for Employee Self Service. If you wish to change your secret question and response, you can do so by navigating to: My System Profile > Change or set up forgotten password help. NOTE: If you currently have access to both SMART and SHARP your Employee Self-Service secret questions and response will be used to default your initial secret question in both systems. However, you do have the option of making them different if you would choose to do that.

If you do not currently have a secret question established in Employee Self-Service you will need to set one up in SHARP and/or SMART before you can start using the Forgot Password Feature. In addition, you must also have a valid email address. Navigate to My System Profile > Change or set up forgotten password help after logging into the system.