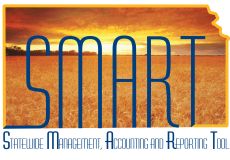 MESSAGE 081710-01

DATE
August 17, 2010
AUTHOR
Purchasing
Subject
P-Card Transactions in SMART

Message Text: The following information regarding P-Cards in SMART does not apply to the Universities or Kansas Correctional Industries.

All P-Card (BPC) transactions that posted to VISA on June 23, 2010 or later are being loaded into SMART.* These transactions are to be reconciled and approved in SMART by the designated reconcilers and approvers for each card. Cardholder and Control Account paper statements will continue to be sent; however, the agency may choose to discontinue one or both of these by having the P-Card Coordinator contact UMB requesting the discontinuance. The reconciliation process in SMART replaces the paper log that was previously required. Please note that the requirements for supporting documentation have not changed. Receipts are still required and must be maintained by the agency. Additionally, reconcilers must add applicable information, including description, to the P-Card transaction just as they would have on the paper log.

*Note the transactions that posted to VISA on July 22 have not been entered into SMART due to a data error during the load.

On a weekly basis (Monday mornings), SMART will identify the approved P-Card transactions and build vouchers for payment to UMB by control account. Transactions that have been approved from the previous Monday to the current Monday will be included in the voucher. These vouchers will be included in the Fiscal Office's worklist for approval. The vouchers will contain the control account, along with an auto assigned suffix, as the invoice number. Do NOT change this invoice number as this value is used by UMB to insure appropriate posting of the payment. Agencies should not create vouchers to pay UMB for any transaction that was posted to VISA on or after June 23.

For transactions on the June statement, agencies should create a voucher in SMART to issue payment. As directed in A&R Informational Circular 10-A-10, you should copy in the converted PO to UMB to pay for these charges. If you have not yet made this payment, the invoice number that should be used for this payment is the control account number, followed by "June." If you have made this payment without this invoice number and UMB is unable to post the payment, you may be contacted to verify the appropriate posting. This will be the only voucher that the agency will actually create to UMB for VISA charges. All subsequent vouchers will be created by SMART for agencies to approve.

For the transactions that posted on July 22 and have not been loaded yet, agencies should not withhold payment due to these transactions not being loaded. Once they are loaded, the reconcilers and approvers should review and approve the transactions. They will then be picked up in the next weekly voucher build process.

It is possible that some reconcilers will see a negative amount transaction in which the merchant is "PAYMENT" or similar nomenclature. These transactions represent previous payments made to UMB in which UMB has posted the payment to the actual card and not the control account. Generally, this would be seen on former BTA accounts where there was no control account. These transactions are acceptable for the reconcilers to validate and approvers to approve. The transaction carries a different transaction type and will not affect the amount of the voucher being built. However, these transactions must contain a valid chartfield string in order to be approved.